2010 Promo content
UMAC 2010 Annual Meeting brochure now on-line (Note: Registration extended to Oct. 13)
2010 Annual Meeting : Oct. 19 - 22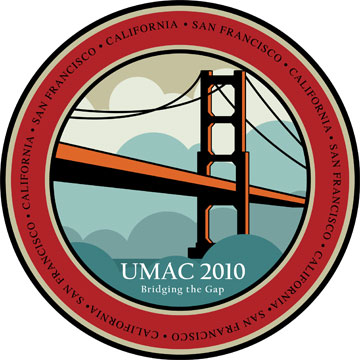 The keynote speaker for the meeting is Rev. Eric Law of the Kaleidescope Institute of the Episcopal Diocese of Los Angeles Diocese.
A one day mission experience is being planned to open the meeting that brings together local church, conference and general church communicators for workshops, panel discussions and celebrations of achievements in communications.
Registration
Register online for UMAC's annual meeting! You have the option of paying through PayPal or by check. Please have your UMAC 2010-2011 paid membership fee PayPal transaction ID or the check # and date payment, on hand.
Schedule
Check out what this annual meeting has in store and view the latest schedule of events.
Vendor Brochure
Share news about your product with communicators throughout the United Methodist denomination. Reserve display and advertising space, or sponsor a meal! View the vendor brochure for more information.
Hotel Information

The historic Hotel Whitcomb located in the heart of San Francisco, CA, will be the site of the 2010 Annual Meeting of the United Methodist Association of Communicators, Oct. 19 - 22. It's conveniently located on Market Street, across from the Orpheum Theater and the Asian Art Museum. When registering, be sure to tell them you're with the United Methodist Church. To take advantage of the low $109 a night rate, you must register with the hotel by Sept. 20.
Hotel Whitcomb
1231 Market Street
San Francisco, CA 94103
Phone: 415-626-8000
Fax: 415-861-1460
Email: sales@hotelwhitcomb.com
Map: Click the "To here" link to get directions to Hotel Whitcomb from your destination.

San Francisco Links