Hall of Fame Inductees
2016 Hall of Fame – Joan La Barr
Joan La Barr receives her award from Art McClanahan, chairman of the United Methodist Association of Communicators
---
2013 Hall of Fame – Boyce Bowden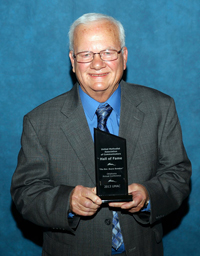 (Photo by Art McClanahan)
Boyce Bowden, former director of communications for the Oklahoma Annual Conference. Read the story online.
---
2012 Hall of Fame – Rev. Al Horton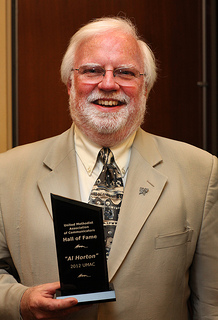 (UMNS photo K Berry)
The Rev. Al Horton, former communications director, Virginia Annual Conference. Read the story online.
---
2011 Hall of Fame – Rev. Ann Greene Whiting and Wally Athey
| | | |
| --- | --- | --- |
| | | |
| The Rev. Ann Greene Whiting (posthumous) | | Wally Athey |
The 2011 Hall of Fame inductees are Wally Athey, Paradise Valley, Ariz., and the late Rev. Ann Greene Whiting. Whiting, who died on March 28,2011, was recognized for her "courage and conviction" by the Rev. Dan Gangler, Indiana Conference director of communications. Whiting was editor of the Southern New England edition of the United Methodist Reporter and Zion's Herald and served as editor and publisher of the Michigan Christian Advocate.

Athey left a 30-year career in television news in 1997 to become the first director of communications for the Desert-Southwest Annual Conference. While there, said Stephen J. Hustedt, current director, Athey set the course for "what the conference first sounded like and what it would be." Athey now directs communications at Paradise Valley United Methodist Church.
---
2009 Hall of Fame – Rev. Hilly Hicks
By Steve Horswill Johnston

The Rev. Hilly Hicks dramatically raised the level and value of film and video production for The United Methodist Church beginning in the middle 1980s. Hilly was the first "Hollywood" actor/producer to be wooed to come to Nashville, Tenn., to lead the denomination into a new era of film and video production. It was because of his producing and acting experience the church launched its first weekly TV national news magazine show, Catch The Spirit and Hilly served as the anchor. Years later, this work led to the current national television advertising campaign.
At the height of his acting career, Hilly attended seminary and became an ordained pastor. Immediately out of seminary, he became a senior producer at UMCom and started prepping for the on-camera talent and co-producer for Catch the Spirit.

Hilly's best-remembered role is probably as Lewis Moore, the younger son of Chicken George, in the groundbreaking TV mini-series Roots. He had been a finalist for the part of Kinte Kunte. He also appeared in TV episodic programs such as Adam-12, Lassie, One Day at a Time, The Mod Squad, Cannon, The Bill Cosby Show, Good Times, Night Gallery, Hill Street Blues, hada recurring role on M*A*S*H, and was a co-star on his own TV show called Roll Out. Feature film credits include Friendly Fire, Gray Lady Down with Charlton Heston, Go Tell The Spartans, Call Me Mister Tibbs and Raise the Titanic. A multi-talented performer, Hilly evendid voice work in Hanna Barbera's 1970s Godzilla TV cartoon.

Hilly brought this level of experience to United Methodist Communications in 1984. His producing abilities were legendary—small "church" productions became nationally recognized. His productions told rich stories.

Hilly left UMCom in 2008 to become senior pastor at Crenshaw United Methodist Church in south central Los Angeles, California, near the heart of the racial unrest in the early 1990s. His son is playwright Hilly Hicks Jr., who has written for TV shows such as Lost and was lead writer for the network program Pasadena.
---
2008 Hall of Fame – Sharon Fulmer

The late Sharon Fulmer, Director of Communications, North Central New York Annual Conference
A writer, editor and photographer, Sharon served as the Director of Communications for the north Central New York Annual Conference. A member of Liverpool United Methodist Church in New York, Sharon had been the editor of the Liverpool Review for 20 years. She was involved in many church and community organizations, including the Willow Museum Committee, Gleason Mansion Restoration Project, Sainte Marie among the Iroquois and the Salt Museum.
Sharon died on May 10, 2008. She is survived by her husband, Dave, children and grandchildren.
Previous United Methodist Association of Communicators inducted into the Hall of Fame are:
2014
No award
2013
Boyce Bowden
2012
The Rev. Alan Horton
2011
The Rev. Ann Greene Whiting (posthumous)
Wally Athey
2010
No honorees
2009
The Rev. Hilly Hicks
2008
Sharon Fulmer (posthumous)
2007
Lynne DeMichele
Rev. Paul Widicus
J. Richard Peck
2006
No honorees
2005
Thomas McAnally
Donald Small (posthumous)
Rev. Dr. Robert Robertson (posthumous)
2004
Roger Sadler
The Rev. Judith Weidman
2003
Ron Council
The Rev. James Wall
2002
Bettie Wilson Story
Robert Lear
Vilmars M. Zile
2001
Keith I. Pohl
William F. Force
Betty Thompson
2000
John Louis Borhert
Daniel D'Umuk Aguila
1999
Bill Matthews
Lee A. Ranck
John Williams (posthumous)
1998
Rev. Kenneth Horn
Bishop W.T. Handy (posthumous)
Winston Taylor
John Lovelace
1997
Laura J. Okumu
Rev. D. L. Dykes (posthumous)
Rev. Gilbert Galloway
1996
Rev. Bruno Caliandro (posthumous)
Nelson Price
Rev. G. Ross Freeman
1995
Rev. David Briddell
Rev. Emory Stevens Bucke (posthumous)
John G. Goodwin
Rev. Robert E. Ortmayer
1994
Roger L. Burgess
Carl Marie Herb
Rev. Roy Stinson Smyres (posthumous)
Rev. David Abernathy (posthumous)
1993
John S. Workman
Darrell R. Shamblin (posthumous)
John E. Martin (posthumous)
Ruth Esther Meeker
1992
Spurgeon M. Dunnam III (posthumous)
Sophie Lee Lonetree Mrotek (posthumous)
Grant J. VerHulst (posthumous)
Curtis A. Chambers
Anton J. Pilversack
Chester A. Vanderbilt
1991
Gene W. Carter
Miron A. Morrill
Charles A. McEowen
Charlotte O'Neal
Maude M. Turpin (posthumous)
1990
George M. Daniels
Robert E. Goodrich (posthumous)
Doris E. Hess
Edward J. Mikula
1989
Georgia M. Dailey
Lewis O. Hartman (posthumous)
William M. Holt
Floyd A. Johnson
Edwin A. Maynard
1998
Arthur J. Moore
Frances S. Smith
John F. Young
Toge Fujihira (posthumous)
Robert F. Story
A. McKay Brabham Jr.